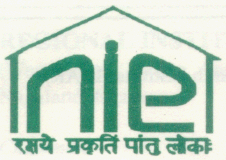 National Institute of Ecology
ACTIVITIES
The activities of the NIE include
(i) organising seminars, workshops, symposia, and conferences;

(ii) publishing scientific journals and books, and educational material for students and general public;

(iii) organising public lectures, and competitions;

(iv) undertaking research projects, particularly those with a bearing on policy-making; and

(v) conducting training courses at various levels.
A list of major activities in the past are listed below. For information on forthcoming activities go to the
relevant page (links provided at the end of this page).
Past Activities - Conferences
1. National Seminar on Environmental Education, New Delhi, July 1979
(jointly with the Indian Environmental Society)
2. National Conference on Ecology, Jaipur, February 1980
(with the support from several Indian Organizations)
3. INTECOL's First International Wetlands Conference,
New Delhi, September 1980
(organized with the support from Department of Science and Technology, Indian National Science Academy, U.S. Fish and Wildlife Service,
and other International Organizations.
A trend-setter, followed by Conferences held every 4 years, in Czechoslovakia (1984), France (1988), USA (1992), Australia (1996)
& Canada (2000).
4. National Seminar on Deserts, Man and Health, Jaipur, June 1981
(jointly with the S.M.S. Medical College, Jaipur, and with the support of the Indian Council of Medical Research, etc.). It is noteworthy that as a follow-up of the recommendations of this Seminar, the Indian Council of Medical Research established a Centre for Research in Desert Medicine at Jodhpur.
5. National Seminar on Environment, Gwalior, February 1989
(in association with Jiwaji University, Gwalior)
6. National Symposium on Planning for Environmentally Sustainable Development,
New Delhi, February 1991
(with the support from Department of Science & Technology, New Delhi)
7. International, Conference on Land-Water Interactions,
New Delhi, December 1991
(with the sponsorship from UNESCO and SIL, and the support from IUCN, AWB, International, WWF-India, COSTED and the INSA.)
The Proceedings of the Conference, published in 1993, have been well received throughout the world.
8. National Symposium on Agriculture and Environment: Issues in Sustainable Agriculture and Rural Development, Jhansi (U.P.), March 1995
(in association with the Friedrich Ebert Stiftung, and the Indian Environmental Society)
9. First Indian Ecology Congress, New Delhi. December 1996

10. International Conference on Conservation of Tropical Species, Communities and Ecosystems,
Thiruvananthapuram, December 3-8, 1998
jointly with the Tropical Botanic Garden and Research Institute, Trivandrum, and
the International Society for Tropical Ecology

11. International Conference on Tropical Aquatic Ecosystems: Health, Conservation and Management:
Nainital, 25-30 October 1999.
Sponsored by the Aquatic Ecosystems Health and Management Society (AEHMS), and
the International Association of Limnology (SIL)
Organised in association with the Kumaon University, Nainital

Selected papers presented at various Conferences, seminars and symposia have been published in Proceedings volumes or as special issues of the International Journal of of Ecology and Environmental Sciences. See list of Publications for details and availability.

Other Activities
Other activities organised by the NIE in the past include a number of Lectures, Competitions for school students, and publication of
educational material.
Go to Top Back Home
About the NIE| Executive Council | Rules and Regulations | Membership | Fellowship
Activities | Conferences | Training Courses | Projects | Publications | Newsletter | Bulletin | Journal | Books
Collaboration | Latest News | Links
Last Updated October 17, 2000